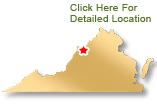 Experience the beauty of the Ramsey's Draft Wilderness Area on one of the more remote trails in the region. Starting on the ridge at Fort Edward Johnson join the Shenandoah Mountain Trail as it winds its way along the ridge through flora including Lady Slippers, Mountain Laurel, and some of the last surviving Eastern Hemlocks in the George Washington National Forest. Other hikes in the area include Jerry's Run, the Shenandoah Mountain circuit, Ramsey's Draft, and Hardscrabble Knob.

There are several excellent campsites on this out and back hike, and our favorite is at the intersection of the Shenandoah Mountain and Ramsey's Draft trails. This is also the hike turn around point and location of Lynn Spring. The spring is generally a reliable water source, but can reduce to a trickle if its been exceptionally dry for an extended period.
The short Confederate Breastworks interpretive loop trail is also located at Fort Edward Johnson. The fort was under the command of Brigadier General Edward Johnson during the Civil War, and was garrisoned by 3,000 Confederate soldiers of the 12th Georgia Regiment in 1862. The breastworks were located on the opposite side of US 250 and remnants are still visible.